Services Offered
Trash Pickup, Removal, and Dumpsters in Maryland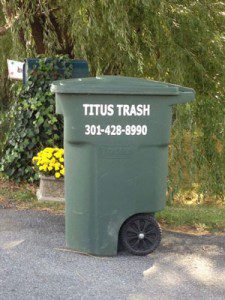 Titus Trash Service offers collection services using your containers or one of our heavy-duty wheeled containers. We offer 96-gallon containers to all our residential customers.
Wheeled containers are provided for a nominal charge, and billed as part of your monthly service fee (see our rate schedule for details). The containers have a latch down lid to keep out birds and animals.
In addition, Titus Trash offers dumpsters with front gravity lock bars or side doors to provide additional security and to deter an unauthorized user of your container.
If you are located in Montgomery County, Maryland, including Gaithersburg, Potomac, Olney, and Damascus, contact us today!
View our Customer Holiday Schedule for Trash Pick-up changes.